We have many exciting competitions and leagues throughout the year, catering to most types of shooting. Some of the leagues we offer are: Bullseye, Combat, Smallbore Rifle, Benchrest, Junior Air Rifle, Junior Smallbore Rifle, GSSF Matches (click here), and Glock-Style Matches.
Our Combat League starts up in December and runs through April, so if you're interested, call us at (989) 894 6691. We will ALWAYS welcome newcomers to the shooting sports, after all, we all were there at one point or another.
We have two Bullseye teams. Bullseye is most often shot with a .22 cal pistol. We shoot at 50′ with one hand. Everyone has their own average and just like bowling, you you are only shooting against your average. This is a great way for new shooters to learn the basics of handgun shooting or for experienced shooters to improve their skills. We shoot twice a month from Sept. thru April. Stop in and talk to Ernie about joining one of our teams.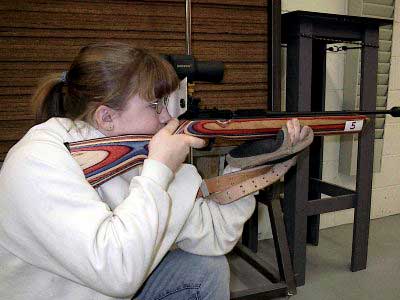 Our Junior programs are extremely popular and successful, with a number of our shooters competing in matches all across the nation! Again, no previous competitive shooting experience is required, we are always welcome to beginners. This league shoots every Thursday night from 6:30 PM – 8:00 PM, and only costs $3 per night (guns & pellets are provided, first night is free). The first night they attend, new shooters are required to watch a safety video and go over gun safety with an instructor.
NSSF Rim Fire Challenge: A great time for $5
This a new program to encourage new shooters to get into competitive shooting. It is a family friendly competition with no age restrictions. The targets are steel plates at various ranges. It can be shot with  22cal. handguns or rifles. We can provide the guns. There is no charge to use our guns, but you must purchase the ammunition here.