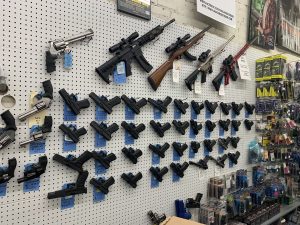 Our handgun rental program includes over 40 different handguns that are available to rent. We have a wide range of firearms to choose from.
In addition to our regular rental guns, we will rent out most of our used guns. (some exceptions apply) If you rent a used gun (not off the rental wall) and then buy it, we will take $10 off the cost of the gun. Ask at the store for details.
Rates for rentals is $16 per 1/2 hr – plus ammo.
Ammo must be purchased here at Duncans.
Eye and ear protection are available for nominal fee. We require a government issued ID and must be able to legally purchase a gun.